In October 2021, WIPCS partnered with the Peace and Justice Studies Association on our annual conference. Please see the PJSA's website for more information about the conference.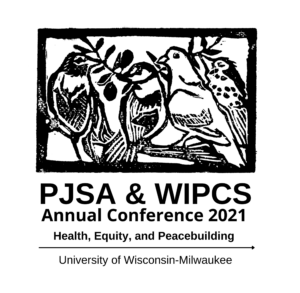 HEALTH, EQUITY, and PEACEBUILDING
Creating Healthy and Inclusive Communities
October 8-10, 2021
Annual conference of
The Peace and Justice Studies Association (PJSA) and
The Wisconsin Institute for Peace and Conflict Studies
Hosted by:
Peacebuilding Programs, the Center for Global Health Equity, and the College of Nursing
at the University of Wisconsin – Milwaukee

Funded in part by a grant from Wisconsin Humanities, with funds from the National Endowment for the Humanities. Wisconsin Humanities strengthens the roots of community life through educational and cultural programs that inspire civic participation and individual imagination.
Any views, findings, conclusions or recommendations expressed in this project do not necessarily represent those of the National Endowment for the Humanities.
OCTOBER 8-10, 2021
Milwaukee, Wisconsin, USA
The theme of this year's PJSA/WIPCS conference offered the opportunity to explore the intersections of health, equity, justice, and peacebuilding. The roots of health disparities stretch back in history with colonization practices and are laid bare again by COVID19. The rawness of our recent crisis provides an important opportunity to explore the depth of health hierarchies. Importantly, it also energizes our recognition of the urgent need for change. Conference participants explored the critical barriers and opportunities to address public health crisis points such as racism, economic disparity, social determinants of health, and gendered violence among other examples of systemic inequalities.
Calling upon the depth and breadth of interdisciplinary peace scholarship and conflict resolution practices, this conference aims to further dialogue, mobilize strategy, and catalyze new insights and practices that empower global change through interconnected local actions.
If you have any questions, please contact the Institute at wiinst@uwsp.edu.